elcome to
The Ben Hardy Network
, your comprehensive source for all things on the lovely British actor! You will be able to find the latest news, information, and photos to keep you up-to-date on the wonderful Mr. Hardy! Our gallery contains over 16,000 photos and growing. You may know Ben from the BBC series
EastEnders
,
Bohemian Rhapsody
, BBC/MAX's
The Girl Before
, and the Netflix romantic comedy
Love at First Sight
. This site is
proudly paparazzi and gossip-free
and we respect Mr. Hardy's privacy. If you have any questions, comments, or concerns; don't hesitate to contact the webmistress.
---
NILSEN REPORT – 'Boundless' an upcoming feature film under Safe Haven Films and Fluent Films has a premise set during the Second World War from the perspective of the daughter of famed Korean freedom fighter Dosan Ahn Changho, Susan Ahn Cuddy. The film commences after the attacks on Pearl Harbor, wherein Susan Ahn Cuddy enlists in the navy and becomes the first female Asian American naval officer in the US military, defying social prejudices and discrimination. Safe Haven Films is an emerging production company. Fluent Films' productions include, 'Plan B' which premiered this year, 'The Rest of Us' which was written by Alanna Francis and more.

Susan Ahn Cuddy enlisted in the US Military at a time when racism was prevalent towards her community. Being the daughter of an active participant in the Koran Independence Movement, Susan Ahn Cuddy grew to be one of the most accomplished officers in the navy. Additionally, she was the first female gunnery officer in the service. As of now, the upcoming feature film is only in its developmental stage but it is predicted that the film will commence its production soon.

Monet Clayton will be heading the production team for 'Boundless' while Nathan Ellis, Gwydhar Gebien and Jane Oh will be composing the screenplay for the upcoming feature film. Monet Clayton is an emerging artist and is known as both a writer and a producer. Aisling Chin-Yee, a popular artist will be directing the upcoming biopic. Her works include, 'The Rest of Us' which premiered in 2016, 'Sorry, Rabbi' a short drama starring Dan Beirne and more and 'No Ordinary Man' which preceived a 94% rating on Rotten Tomatoes, to name a few.
Ezoic

The cast for 'Boundless' include, Ben Hardy, Nick Offerman, Taylor John Smith and Kim Joo-Ryung. Ben Hardy is a known actor whose has performed in works such as, 'Bohemian Rhapsody' which is a biopic on the popular band 'Queen', 'Love at First Sight' which is a Netflix film, 'X-Men: Apocalypse' in which he played the role of Warren and more. Nick Offerman was previously seen in 'Dumb Money' a dramedy, 'Colin in Black and White' which premiered in 2021 and 'Good Omens' to name a few. Taylor John Smith is popular for his performance in the series 'Sharp Object' which premiered in 2018. His other works include, 'Where the Crawdads Sing', 'You Get Me' and 'Shadow in the Cloud' to name a few. Kim Joo-Ryung gained international recognition through her portrayal of Han Mi-nyeo in Squid Game. Her other works include, 'Big Bet', 'Silenced' and more.
---
Ben starred in Cian Ducrot's music video, depicting the loss of a loved one, which was released today.
---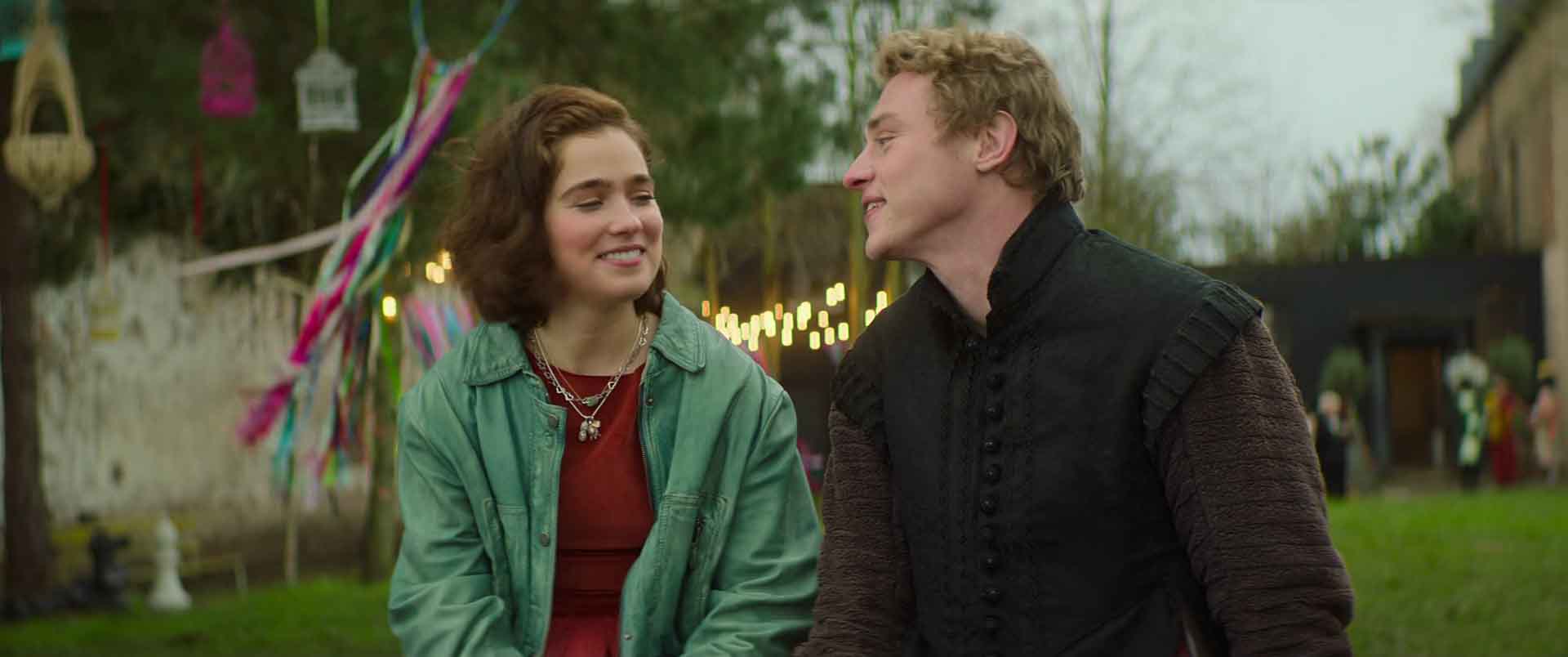 Over 1300 high quality screen captures from Love at First Sight have just been added into the photo gallery. Enjoy and go watch the film at Netflix!
---
Ben, Jason Patel, and filmmakers Sally El Hosaini and James Krishna Floyd visit Collider's TIFF media studio at the Cinema Center at MARBL for an interview with Perri Nemiroff.
---
HAPPENING OUT – Renowned actor Ben Hardy, known for his roles in EastEnders and X-Men: Apocalypse, has opened up about the "instant" chemistry he shared with his co-star, Jason Patel, in the groundbreaking LGBTQ+ film "Unicorns." The movie made its world premiere at the Toronto International Film Festival on September 8, 2023, and has since garnered attention for its compelling narrative and exploration of intersectional LGBTQ+ themes.

In "Unicorns," Ben Hardy portrays Luke, a single father and car mechanic from Essex, striving to raise his young son. Luke's life takes an unexpected turn when he stumbles upon a nightclub hosting a queer South Asian night. It's here that he encounters Aysha, a captivating drag performer played by acting newcomer Jason Patel. As Luke becomes enthralled by Aysha's performance, he slowly comes to realize that Aysha is the drag persona of Ashiq and not a biological woman, leading him to confront his own sexuality.

What makes "Unicorns" unique is its approach to storytelling. To maintain the tension and authenticity of the narrative, the film's directors, Sally El Hosaini and James Krishna Floyd, deliberately kept Patel and Hardy separate during their preparatory work. This unusual approach paid off, as the on-screen chemistry between the two actors was described as "very natural" and "instant."

Hardy, reflecting on his experience, remarked, "It's either there or it's not. I've done things before, I won't name them, where I've tried to manufacture chemistry and spent a lot of time with people. But I think it's like when you fall in love, sometimes you meet someone, you hit it off and things go from there. If you don't have that on screen, it shows."

Patel echoed these sentiments, stating that he and Hardy developed "such a great friendship" during and after filming.

For Hardy, taking on the role in "Unicorns" was a deliberate choice to challenge himself as an actor. He explained, "[Unicorns] would be something I've never done before, so it was something that would be a good test for me. Ultimately, I thought it was an incredibly beautiful story that I wanted to be a part of."

"Unicorns" promises to deliver more than just physical chemistry between its leads. According to reports, the film also delves into emotional depth, exploring the intersectionality between queer and Muslim cultures. Patel's character, Aysha, performs primarily for "closeted bi or gay Muslim men." Aysha herself hasn't disclosed her queer identity or her life as a drag queen to her estranged family. The film's portrayal of these complex dynamics has received praise for shedding light on these often-overlooked facets of LGBTQ+ representation.

Asifa Lahore, the UK's first openly gay Muslim drag queen, serves as one of the film's executive producers, emphasizing the importance of authentic representation in "Unicorns."

In a review by Gregory Ellwood of The Playlist, Ben Hardy's performance in the film was described as "absolutely incredible." The film promises not only to captivate audiences with its exploration of personal relationships but also to raise awareness about the complexities of LGBTQ+ experiences, particularly within the context of different cultural backgrounds.

"Unicorns" will continue to make its mark on the film festival circuit with its screening at the London Film Festival in October. As it does, it is poised to continue challenging stereotypes and expanding the representation of LGBTQ+ stories on screen.